About
ALPA's ACE Club at the University of North Dakota (UND) was established in fall 2012. During the semesters, ALPA pilot liaisons bring in different speakers to highlight topics related to training, interviewing, professionalism, and the promotion of the aviation profession. Students have also enjoyed field trips coordinated by ALPA pilots, including a tour of Endeavor Air operations, MSP Tower Tour, and others.
Recent activities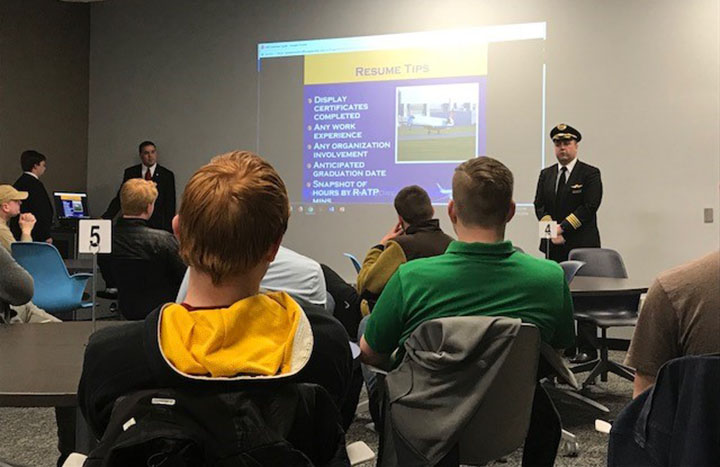 During the spring 2018 semester, ALPA Education Committee volunteers visited the UND campus for a two-day professional development session. The group, led by Capt. Stanley Adams (Delta), included Capt. Joel Aiken (United), F/O David Barnes (Delta), F/O Deanna Kimball (Delta), Capt. Jacob Lang (Endeavor), F/O Timothy Lovell (Hawaiian), F/O Ana Messmore (Endeavor), F/O Karla Suderman (Endeavor), and F/O Nathan Tilley (Endeavor).
Discussions the first day focused on being a successful interview candidate. The group gave tips for how to write a resume, complete an airline application, prepare for an interview, dress for success, and ace the interview. That evening, there was an open forum for the students to ask questions.
The following day, over 60 students put their newfound knowledge into action by participating in a mock interview process. Each student presented his/her resume and was asked questions about their experiences and career goals. This exercise was beneficial as students were provided with immediate feedback to help them prepare for real-world interviews.
On behalf of the Association, F/O Barnes also attended a banquet to present a scholarship to a student enrolled in the aviation program at UND. Nathan Engstrom, who is majoring in commercial aviation, was awarded the scholarship for his outstanding academic and leadership achievements.
Want to get involved at UND?
Send ALPA's Education Committee a message below.