About
ALPA provides a critical link for current Purdue University students and Purdue University alumni who are professional ALPA aviators. Currently, ALPA's mentorship program is exceeding our expectations. We have partnered with the Purdue Professional Pilot program under the direction of Prof. John Young and Prof. Brian Dillman. We visit the West Lafayette campus at least once per semester, providing students with a current events presentation and Q&A sessions.
Recent activities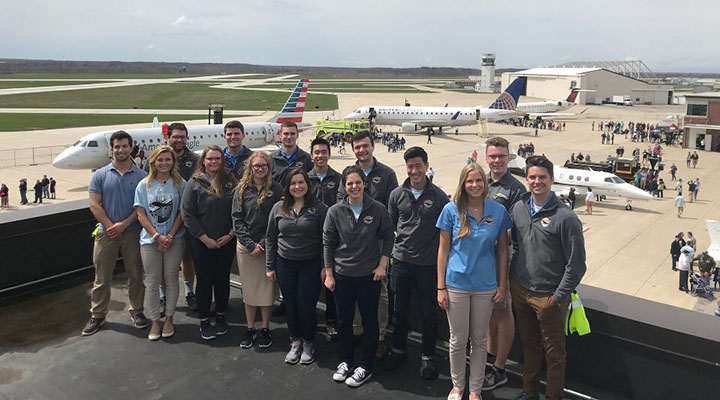 The 2018 Purdue Aviation Day was one of the most successful events since its inception in 1911, with over 5,600 attendees of all ages. The event, held during the spring semester, featured static aircraft displays, guest speakers, educational sessions, and children's activities to promote aviation and inspire the next generation of Boilermakers. ALPA engaged with countless youth throughout the day, encouraging future aviators to pursue their dreams. Three airliners were flown in, along with a multitude of general aviation and military aircraft. More than 20 exhibitors attended, ranging from aircraft manufacturers to the armed forces.
ALPA's Education Committee also organized a "Meet the Pros" panel presentation that consisted of faculty, students, and alumni in the industry. ALPA panelists included F/O Ryan Bach (FedEx), Capt. Mitch Murgoitio (Compass), and Capt. Scott Wasulko (Envoy). Airport and airline management professionals, including Indianapolis Executive Airport director and an analyst from United Airlines International Network Planning, were also on the panel. The audience asked dozens of questions on topics like unmanned flights, the economics of collegiate aviation programs vs. regional pay, and the role of ALPA.
Want to get involved at Purdue?

Send ALPA's Education Committee a message below.