Scholarships and Financial Aid
One of the biggest problems for an aviation student is how to finance your education and training. Many students only know about the federal and state financial assistance programs that are open to application by any student; however, there are also a number of scholarships available specifically in an aviation-related major.
A partial listing of such aviation scholarships, compiled by the University Aviation Association, is listed below, along with eligibility criteria and contact information to learn more about the scholarship. There are also links available to aviation organizations with additional scholarships. You are encouraged to apply for any scholarships for which you are eligible in addition to applying for the federal and state financial assistance programs for which you may be eligible. Some colleges and universities may also have scholarships open specifically to the aviation department—contact the financial aid office of the specific college to inquire about such scholarships.
The LeRoy W. Homer Jr. Foundation
The Foundation was founded in memory of LeRoy Homer, First Officer of United Airlines #93 when it crashed in Shanksville, PA on September 11th, 2001. The mission of The LeRoy W. Homer Jr. Foundation is to encourage and support young adults who wish to pursue careers as professional pilots. In addition, The Foundation promotes awareness about aviation careers to disadvantaged youth.
---
Captain Jason Dahl Scholarship Fund
This fund is created in memory of Captain Jason Dahl with respect toward all victims of the events of 9/11/2001. It supports future generations of pilots, young people yearning to fly, through the award of Aviation Scholarships annually.
---
Air Line Pilots Association Scholarship
One annual undergraduate scholarship open to children of deceased or medically retired ALPA pilots (not limited to aviation-related major).
---
Costas Sivyllis ALPA Education Scholarship
Multiple scholarships totaling a value of $10,000 will be awarded to candidates displaying exemplary aviation career goals.
---
Aero Club Foundation Scholarship
Scholarships will be awarded to students enrolled in a District of Columbia Metropolitan Area Public or Public Charter school headed to an accredited college, university, technical school or flight training program with a passion for aviation/aerospace.
---
AOPA Air Safety Foundation McAllister Memorial Scholarships
Two annual $1,000 scholarships open to college students pursuing an aviation degree. Awarded jointly by the Aircraft Owners and Pilots Association Air Safety Foundation and the University Aviation Association.
Contact: AOPA Air Safety Foundation
421 Aviation Way
P.O. Box 865
Frederick, MD 21701
---
AOPA High School Flight Training Scholarship
Twenty scholarships, at $5,000 each, are available to high school students who are passionate about pursuing a pilot's certificate.
Contact: AOPA Air Safety Foundation
421 Aviation Way
P.O. Box 865
Frederick, MD 21701
---
I Hart Flying Foundation
The Foundation is working to assist young women in achieving their aviation goals through the awarding of flight training scholarships. Note that the application process ends on April 20
Contact: Whirly-Girls Inc.
1725 Desale St., Suite 700
Washington, DC 20036
---
Whirly-Girls Scholarship
Annual $4,000 scholarship awarded to a female commercial airplane pilot to obtain an initial or additional helicopter rating. Awarded by the International Organization of Women Helicopter Pilots.
Contact: Whirly-Girls Inc.
1725 Desale St., Suite 700
Washington, DC 20036
---
Zonta Amelia Earhart Fellowship Awards
Annual $10,000 grants to qualified women for graduate study in aerospace-related science or engineering.
Contact: Zonta International
35 East Wacker Drive
Chicago, IL 80601
---
Air Traffic Control Association Scholarship
Various scholarships to collegiate aviation students.
Contact: Air Traffic Control Association Scholarship Fund Inc.
2020 N. 14th St., Suite 410
Arlington, VA 22201
---
Alpha Eta Rho Scholarship
Five annual $1,000 scholarships to active members of the Alpha Eta Rho aviation fraternity.
Alpha Eta Rho Scholarship
Attn: Executive Director
4579 Laclede Ave. - Suite 1929
Saint Louis, MO 63108
---
AAAE Scholarships
Four $1,000 grants to juniors/seniors pursuing a bachelor's degree in aviation management. Sponsored by the Northeast Chapter, American Association of Airport Executives.
Contact: Executive Secretary
NEC/AAAE
4224 King Street
Alexandria, VA 22302
---
The Brooke Owens Fellowship Program
Offers paid internships at leading aviation and space companies and organizations for passionate, exceptional women seeking their undergraduate degree.
---
National Business Aviation Association Award or Scholarship
Up to $500 a year to aviation students of NBAA member universities or colleges.
Educational Programs
NBAA
1200 18th Street, N.W.
Washington, DC 20036
---
International Society of Women Airline Pilots Scholarships
Contact: ISA + 21
P.O. Box 38644
Denver, CO 80238
---
Aviation Distributors and Manufacturers Association Scholarship
Contact: ADMA Scholarship Program
1900 Arch Street
Philadelphia, PA 19103
---
Professional Aviation Maintenance Association Scholarship Fund
Annual scholarship awarded to a student pursuing an A&P license.
Contact: PAMA Scholarship Committee
500 NW Plaza, Suite 912
St. Ann, MO 63074
---
Abingdon Foundation
The "It's About Time" Sponsorships will be awarded to a young woman who will receive a full registration to 1 of 3 industry conferences (Women in Aviation International, Heli Expo, or DEMA), including round trip airfare and room and board during the conference. Along with first access to seminars and multiple networking opportunities, we will introduce the winners to key people in their industries who will share their experiences. Applicants are not required to be pilots. The goal is to invite someone to see all of the different avenues of their industries (e.g. aviation includes engineering, aerobatics, maintenance, airlines, and much more).
Contact: Abingdon Foundation
hello@abingdonfoundation.org
---
Royal Canadian Air Force Foundation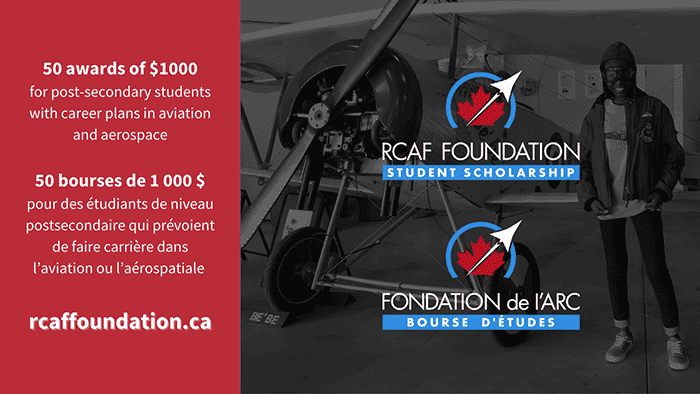 The RCAF Foundation Student Scholarship is offered to Canada's next generation of aviation and aerospace leaders. These scholarships are designed to assist post-secondary students in S.T.E.M. (Science, Technology, Engineering, Math) areas of study who are planning future careers in the fields of either Aviation or Aerospace.