About
An alliance to develop an ACE Club at Indiana State University (ISU) was formalized in April 2017, making it ALPA's tenth collegiate professional development and mentoring program—and its fourth new program in as many years. This program is helping to bridge the gap between the classroom and the flight deck—providing real-world information, tools, and resources to further prepare collegiate aviators for their careers.
Recent activities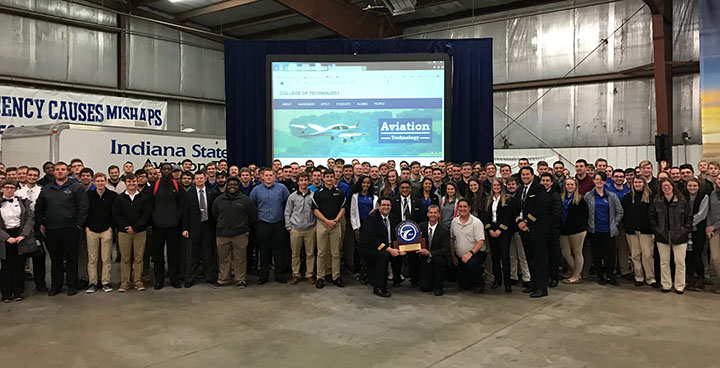 During the 2017-18 academic year, approximately 130 students attended the university's annual flight safety event. F/Os Chris Fuson, Erin Garrett, Christian Jimenez, Corey Stutsman, and Richard Swindell (all with United) also talked with students about winter operations—a fitting subject for that time of the year. Following the discussions, ALPA pilots presented a plaque to Harry Minniear, interim chairman and associate professor in the Department of Aviation Technology, to commemorate the formation of this professional development program. The program continues to flourish with active student participation.
Want to get involved at ISU?
Send ALPA's Education Committee a message below.