About
The Prescott campus' ALPA ACE Club was established in 2012. The ALPA ACE Club is a student-led organization that features monthly presentations by subject-matter experts arranged by ALPA Education Committee members on various aviation-related topics. Additionally, ACE Club members enjoy exclusive information from ALPA, including ALPA airlines' pay rates and hiring requirements, networking opportunities with current ALPA pilots, and select Air Line Pilot magazine articles.
Recent activities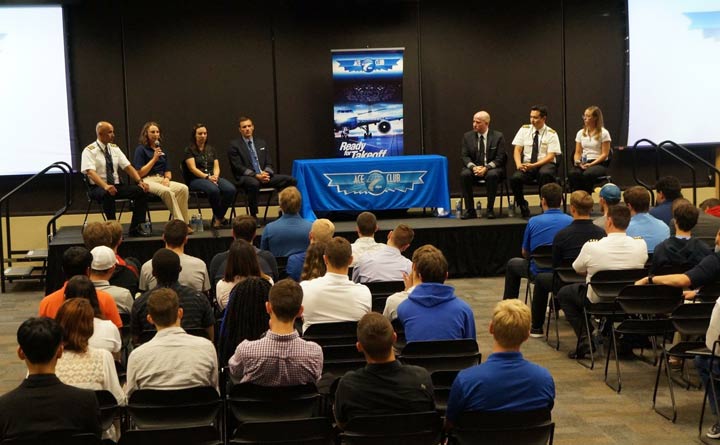 The ACE Club kicked off its fifth year on campus with a "Day in the Life" presentation on September 15, 2016, by F/O David Alpert (JetBlue). F/O Kurtis Ludwig (Delta), Capt. Carl Gustafson (JetBlue), F/O Stephen Rocha (ExpressJet), and F/O Erik Wichmann (United) also attended and gave students an overview of the club. Later that month, ALPA pilots returned to campus for a "Meet the Airlines" forum and to assist student members during the Career EXPO. The last meeting of the semester was held on November 3 with a presentation on crew resource management.
Want to get involved at CWU?
Send F/O Kurtis Ludwig (Delta), a message below. F/O Ludwig is the ALPA-ERAU-PRC Liaison.